We had big plans for 2020.  Last year we opened up the house to the public for Spring Fling and a couple of other open studio events and we loved having people visit.  I have a background in retail and miss the interaction of meeting people face to face, so we decided that we would open up four days a week from Easter to October.

We knew it would also be a great opportunity for Adrian too, as he has begun a new career as a blacksmith and he planned to open the forge at weekends for people to watch him learning his new trade.
We set our opening date for Good Friday but before we could open … well, we all know what happened next!
Now that restrictions are lifted, we have opened our doors here in sunny southern Scotland under the joint name Fine View Arts. With social distancing and masks and our Good to Go certificate in place, we are welcoming visitors through our doors once more.
During lockdown, we began the work to build ourselves a new online shop and we have now launched that with some of Adrian's ironmongery products, my paintings and prints and a tonne of hand dyed yarn as well as fibre, silk scarves and delicate lace shawls. Please take a look, it's www.fineviewarts.com.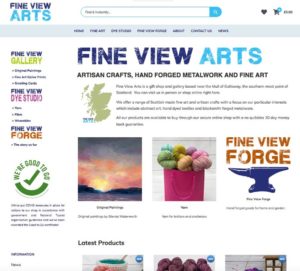 Instead of selling directly from here, my work will now be for sale through the Fine View Arts website and I will keep the focus here on the art, the blog and all being well, future events.
So we will continue to monitor the Covid situation and will always comply with any further lockdown restrictions.  But if you are here and we are open, please come along and say a socially distanced hello, we'd love to see you and share our work.  All the details of how to find us are on the Fine View Arts website.