I have not done as much painting this year as I normally would.  Lockdown was a dark time, not really because of the pandemic as such, but we lost good people this year and with all exhibitions cancelled and shops locked down, my motivation to be self expressive was not top of the agenda for a long time.
I took comfort in dyeing fibre and yarn and explored some interesting fusions of textile and paint which I will be going back to I'm sure. 
Gradually, I began to look at recent work and add finishing touches to neglected pieces and eventually found my way back to the easel.  Looking at this small collection of four finished pieces, I can see a common thread running through them, or certainly through the first three – a calm solitude and peace, perhaps a reflection of the isolation we found ourselves in.  The colour palette has more sombre tones than I have used in the past, with the most recent ones, Road Back Home and Faeryland, showing a return to those brighter colours that have always signified hope and excitement for me.
In April 2019, I spent a week in Argyll, leaving Adrian studying blacksmithing while I enjoyed days of solitude, wandering through ancient native forests, sketchbook and camera in hand.  This painting is a memory of a sweet encounter with a deer while taking a break and soaking up the spring sunshine.
From £125-160.00, depending on frame
Media:  Acrylic on paper
Size:  20cm x 28.5cm
Frame size:  28cm x 36.5cm
Mount colour:  Ivory
This painting was started last year and I put it aside as being too dark, but it really is appropriate for this year.  There is no light without the dark and this one has a lot to say to me about darkness and hope.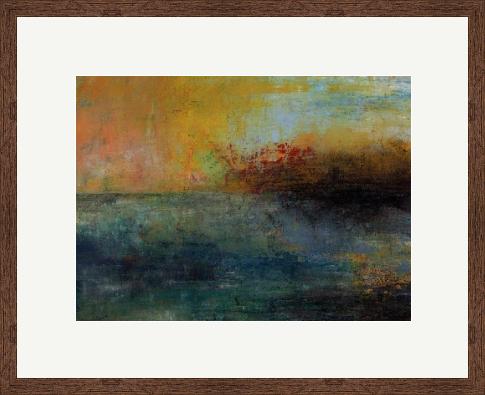 From £175-210.00, depending on frame
Media:  Acrylic on paper
Size:  37cm x 27cm
Frame size:  50cm x 40cm
Mount colour:  Ivory
This is not a detailed description of a scene, but it does capture a mood and it's the one that got me back at the easel and painting purely for the pleasure of painting.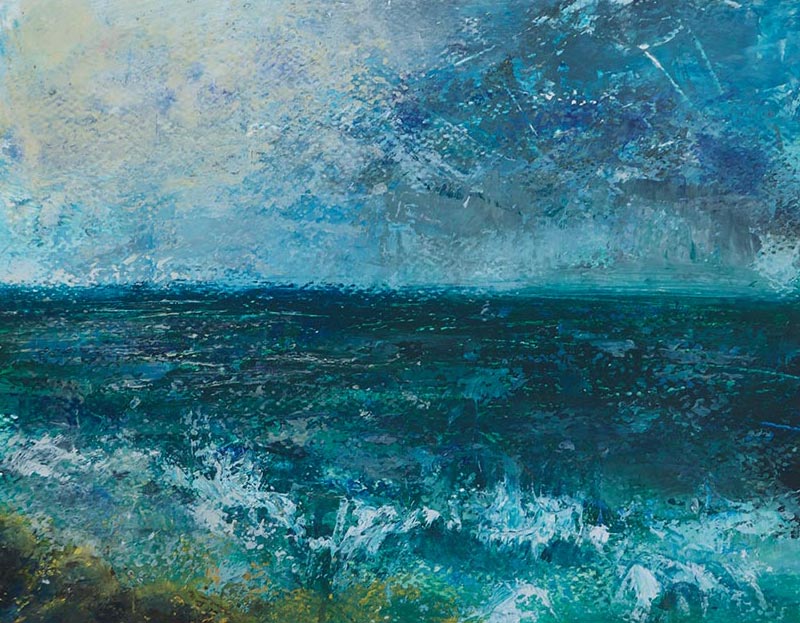 From £120-149.00, depending on frame
Media:  Acrylic on paper
Size:  25cm x 20cm
Frame size:  35cm x 30cm
Mount colour:  Ivory
This painting has been building for quite some time, it has many layers of textured paint, ink and there's even some iridescent paint that you really can't capture in a photo.  Finished after lockdown had lifted (before it came back!), I see a reflection of that in the lighter and brighter colours.
From £1720-210.00, depending on frame
Media:  Acrylic on paper
Size:  36cm x 26.5cm
Frame size:  44cm x 34.5cm
Mount colour:  Ivory
Normally I get my paintings framed before I offer them for sale, but with exhibitions closed and open studios not currently possible, it ties up funds to get paintings framed just to sit here in my studio.  So I have found a great company who offer a range of framing options and I've put these paintings up on the Fine View Arts website with options for you to choose from.
The cheapest option is to buy the painting unframed.  It comes in an off white mount, ready for you to frame yourself.
I usually go for a flat white frame in a gloss or painted finish, but some people prefer a dark frame or a moulded frame for a more traditional look.
Click on any of the images above to read more and see the full range of frames available for that painting over on the Fine View Arts website.